Psychedelic


Liquid Lightshow


For Sale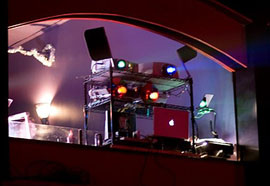 | | |
| --- | --- |
| | For this recent show the equipment is set up in a theatre balcony box, some of the liquid projectors can't be seen because they were projecting from further back in the box, but the video projectors are clearly seen on their stand with the laptop controller, next to one of the overheads. The throw was about a hundred feet plus. Here's more pix... |






What's For sale:


Complete show, make me an offer, take it all!



Was used to do projected 60's Hippy-style liquid light shows to accompany music performances, updated with added video equipment, no disco or blinking bulb-type effects stuff, this is all projection and support equipment.



Projectors, liquids, glass, video projectors, screens, bulbs, misc, to a good home!




Bright LCD video projectors are three Sony 3000 lumen plus one Christie 4100 lumen, each with regular and long throw lenses, remotes, extra bulbs and Anvil-type cases.
Visualizer for liquid input to video.



Four overhead projectors are brightest metal-halide models with young bulbs, extra bulbs, some cases, also several misc 1200W incandescent overheads with custom dimmer panel.



Misc Kodak slide projectors.



Lots of extra incandescent bulbs.



Older Mac 17" laptop running Livid Union software to feed images to vids, needs screen fix, with performance image library.




Three 10 x 10 ft. pro-quality front projection screens with grommets and storage bags.



Many pieces of large glass for liquids effects plus special oil and colors, mixed and unmixed.



Personal travel case with complete 12" glass set, supplies to make and mix liquids.



Couple extra Anvil cases.



Two large custom fan-cooled strobes included.



This show has worked up to 100'+ distance, 30 to 60 ft. is intense. Last used in 2011.